From one best friend to another~
Hi Vartika,
Vartika this side, it's quite subliminal every time I say that knowing how rare this name is and then to have someone I share this name with to be a wonderful friend as well. We would always receive reactions from our classmates and teachers for being such close friends with the same name.
It's been such a long time since we connected back. Recall our school-days doing almost all our activities together from maths sums to our favorite art classes and fun lunch breaks. When you had to shift away along with your family to another state, it was quite sad for me to know that you won't be around. I used to miss you a lot, but slowly we moved ahead with our lives adjusting to new surroundings, meeting new people, and making new friends.
A few days back I heard about your whereabouts and connect through one of our classmates and couldn't wait to speak with you. However, I held myself to just pick up the phone and call and planned something special, after all, we are super friends. So here I am sending you all the things which will freshen up our memories. I loved the experience of preparing them for you and hope you enjoy them as well.
Greeting card: Yeah it's in your hand. We used to exchange greeting cards on each other's birthdays. I still remember your birthday falls on the 16th of December and I just enjoyed getting the DIY components together to prepare something unique for you.
Handmade chocolates: Whenever we got chocolates in class, it was always 2 in numbers. I learned how to make them at home and couldn't wait to add them to the goodies I am sending you. There are 6–7 different flavors in there, as we speak would be keen to know how many you guessed.
Painted vase: Do you remember we had a project in craft class to paint a clay vase. On the day of submission, I accidentally broke your vase. I was feeling so guilty but you just managed to smile and say "Bas kya, yahi dosti!". Oh, that was such a wonderful memory for me, so after all these years, here's one made especially for you by me.
Crochet cap: I just thought that it would be awesome to knit a warm crochet cap for you, so when you got to any winter destination you have a warm snug fit of this cap. The colors are as you always liked Teal with a hint of dark green.
You have been a special friend and now I have a chance to connect back. We have gone through a lot of phases in our lives but still, those school memories are always warming to dive in. I am eagerly waiting to hear from you on how you have been and how you liked what I sent you with everything made by me myself.
Gifts are not from stores but our hearts.
Lots of love,
Vartika.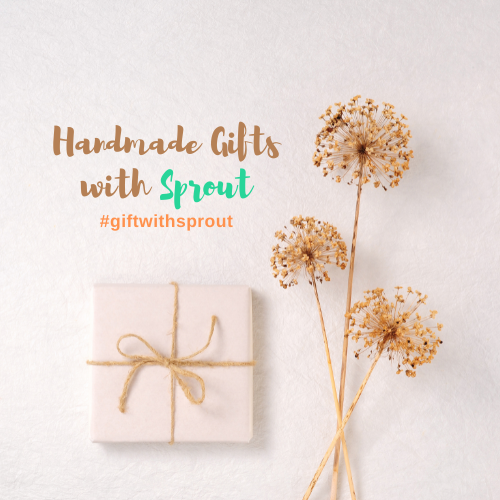 Reading the letter, Vartika soon got lost in a wave of nostalgia. She felt so happy seeing, touching, and feeling the handmade gifts which were a souvenir of love, care, and memories. While making a card or any thoughtful thing for the purpose of gifting, one remembers all the moments spent with the person. The emotions arising in the mind and heart are transferred to and absorbed by the presents made and are delivered to the receiver. Ever wondered why that skirt or shrug knitted by your grandma is so dear?
We often feel that buying a nice present along with a card and Cadbury is perfect. They might delight a person but handmade gifts multiply the joy four times. The receiver feels special because instead of purchasing or ordering something online, you have put in the time and effort to create one.
There are a lot of options that can be crafted and also personalized such as wall-hanging with photos, embroidery on a dress or top, framed line-art, or even a simple painting. To conclude I would like to quote Aimee Bender "That's the thing with handmade items. They still have the person's mark on them, and when you hold them, you feel less alone."