Our previous article highlighted the barriers to creativity we identified in our research with adults which led us to our problem statement:
How might we inspire, nudge and support adults to start and be consistent in pursuing creativity?
In our design, we saw this more as a behavioural challenge as compared to a learning or skill-based problem. Access to digital content based platforms is increasing every day, and at Sprout, we have therefore adopted an experience focused model to build user engagement and consistency.
Our primary goals is to create and promote active user experience by "Creating" or "Doing" real projects and providing tools to nudge and track a user's creative journey. We believe that passive consumption of content (videos or photos) can only trigger creativity to an extent and users need to feel accomplished by completing projects to stay consistent.
Completing projects does not mean that users need to spend 2–3 hours at a stretch practicing or create a perfect piece of art or craft (more on this in another thread). With Sprout, users can practice and create small projects such that they are able to see and build progress over time.
Given the limited time users have in a busy schedule, we provide users access to curated 15–60 min step-by-step project videos, practice exercises and progress tracking tools to start and build creativity.
Another barrier we noted was the lack of planning for creative interests and while exercises and journeys are common place in fitness-oriented solutions, creativity focused platforms have a long way ahead in supporting creators to stay engaged in the long run.
We have created the "SPROUT CREATIVITY CYCLE" to empower users to stay connected with their creativity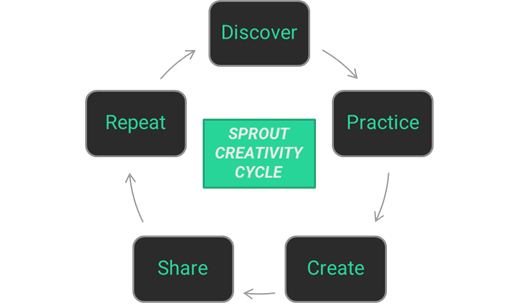 Key elements of the Sprout Creativity Cycle:
DISCOVER ~ Users choose from curated beginner, intermediate, or advanced projects to build their own unique creative journey
PRACTICE ~ Mini-exercises for users to complete regularly, allowing space for reflection
CREATE ~ Users choose and complete real projects at their own schedule with easy access to experts
SHARE ~ Users share and receive feedback in project specific groups
REPEAT ~ Users set and track their progress and repeat the cycle with new projects
While the steps may seem simple, it's the repetitive cycle that leads to building creative habits.